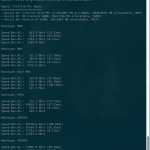 So the Juniper Netscreen/SSG ScreenOS password hash is a bit of a hidden mystery. I had in my hand the config of a Netscreen device and I wanted to perform a reverse of the password hashes to see if they were weak.
In this case here's the line from the config:
1set admin user "admin" password "nAePB0rfAm+Nc4YO3s0JwPHtRXIHdn" privilege "all"
John The ripper has supported Netscreen passwords since back in 2008… Continue reading →
So Linkedin hashes have recently been leaked onto the net, and plenty of people have been cracking them. Meanwhile eHarymony passwords were also leaked!
The hashes are here and a quick download is all thats needed. wget them to prevent your browser from trying to render the entire txt file!
Throwing a dictionary at it with 80,546,115 words in it results in 22% cracked passwords.
12345678910111213141516171819202122232425262728293031$ ./oclHashcat-plus64.bin eharmony.txt -r rules/best64.rule…
Continue reading
So recently there has been lots of news about the linkedin password hashes being leaked which was finally confirmed on the linkedin blog.
Many of the hashes first 5 chars are obfuscated with zeros so it's understood these are the passwords already cracked, presumably the simple ones?
1. There are 3,521,180 hashes that begin with 00000. I believe that these represent hashes that the hackers have already broken and… Continue reading →